The City of Alpena overlooks Lake Huron's picturesque Thunder Bay. The region is known as the "Sunrise Side" from its location on the east shoreline of Michigan. The wood, cement, and heavy machinery industries of Alpena stemmed from a long industrial heritage that started with logging in the 1800s. Alpena is known for its limestone quarry, one of the largest in the world. Commercial fishing is still a large activity.
Visitors can view the lighthouse anytime and are welcome to do so from a boat or the Alpena Municipal Breakwall located adjacent to Bay View Park on Prentiss Street which runs off of South Harbor Drive. The tower is currently closed for general public tours. In the future we hope to open up for special limited tours once or twice a year, but until certain safety precautions and restoration steps are completed, it will not be possible. Special private group tours could be arranged on a limited basis by contacting Michigan Lighthouse Conservancy through our tour request form (hyperlink). In the mean time we hope our photo gallery and other web site features will help you enjoy viewing and learning about the lighthouse.
The Alpena Lighthouse is located at the end of the northern Alpena breakwall at the entrance to the Thunder Bay River. Approximate Latitude / Longitude: +45° 3′ 37.23″ N, -83° 25′ 22.80″ W. The Alpena Lighthouse is best viewed on the Alpena Municipal Marina breakwall or can be viewed by boat and has no official street address. The nearest address is the Alpena Yacht Club located at 250 Prentiss Street Alpena, MI 49707.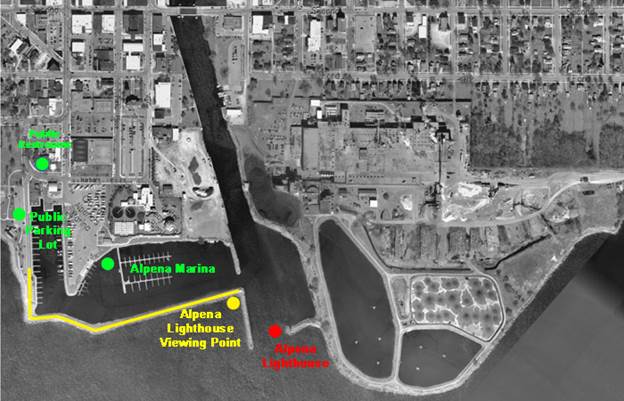 This map shows with yellow lines the access path to get the best land based view of the Alpena Lighthouse. The nearest address is the Alpena Yacht Club located at 250 Prentiss Street Alpena, MI 49707. Parking can be in any general parking lot next to Bay View Park. Public restrooms are available across the street from Bay View Park and the Alpena Yacht Club.