How to take a Cell Phone Tour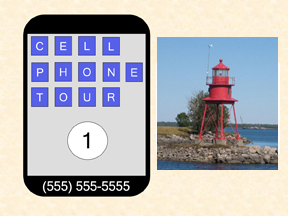 As a visitor to the historic Alpena lighthouses any time of the day or night, you may get your own personal tour of the site by walking the area and noticing signs with the cell phone tour number and the stop number on them. A bar code you can scan with your smartphone will take you to our web site as well.
The cell phone number to dial is only located on the signs Alpena South Breakwall.
The tour will be available in the summer of 2014.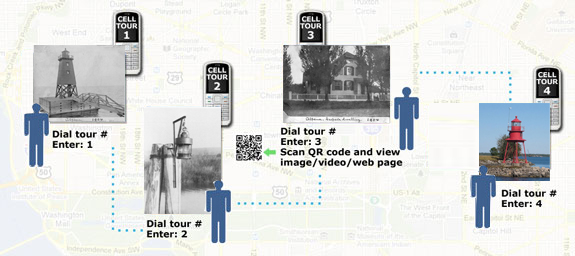 This is what you will experience on the cell phone tour:
A visitor dials the tour phone number posted on the signs.
 A short greeting is played Welcoming you to the Michigan Lighthouse Conservancy Tour.
The visitor will be prompted to select the tour they wish to take.:
Tour 1 for the for the Alpena Lighthouse

The first time a visitor dials in you will hear a brief introduction to the tour.
The visitor will then be prompted to enter a stop number and then they enter the stop number they are at on the posted sign.
When the recording for the selected stop number is completed, the visitor is again prompted to enter another stop number. A visitor can enter another stop number or disconnect and wait until they reach another stop they wish to hear about.
When a visitor dials back in, they hear the greeting and are then prompted to enter a stop number and then they enter a stop number.
Return to step 5.
A visitor can enter another stop number while a recording is playing and they will go to the recording for the new stop number. You can start and stop anytime at your leisure. As the lighthouses are not open to the public on a regular basis now, we hope this provides an enjoyable alternative for visitors at any time of the day.